Alexandre Ozon and his Beepox 9.90 "Team de Choc" were the first to reach the finish line, crossing the Atlantic ocean in 13 days 1 hour 14 minutes and 15 seconds. He shares with us his adventure and the precious support provided by Adrena software.
Can you tell us about your use of Adrena?
I think I've got an Adrena since 2012. I use the software every time I sail but also a lot at home to replay the tracks, improve the polar and make routings. It's great because you can analyse a lot of data and play with the pivots. But what I like the most is that in the end, I am the only one who can decide to follow a routing or not. It's a lot of fun!
Which function(s) do you use the most?
The routing and its analysis but also the cartography and the AIS Tracking. I often comeback on tracks, it allows me to discover new things 😉
Was Adrena an asset to win the Transquadra race?
Definitely, I think I was exploiting 80% of the software. I was mainly using the digital data window and the histographs. I colorized winds all the time, it was fast and very useful (but you need a powerful computer to make this function work). Every day, I compared my polar with the wind GRIB to improve my upcoming routings. This took only 30 seconds with Adrena and it was essential to make the boat work properly and understand the Grib files.
In my opinion, my assets on the Transquadra were: Adrena software and the fact that I knew how to use it, my pilot and my NKE electronics, my Starvoiles sails.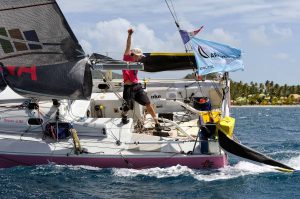 When did your race take the turning point of victory ? Which decision has been the right one?
I think choosing the South option was the good decision. It took me 3 hours the first night to find the best scenarios on Adrena. Four or five days before the arrival, I simulated my competitors' routings and they were not following strong winds routes in the North. I spent 2 hours analyzing them one by one to understand their strategy. As the fleet was slowly gathering, I made my own way. I went North looking for pressure and it created a gap between me and them. When I saw that I was a thousand nautical milles ahead and that they were all finally following my route, I realized I was leading the game. However, I never slowed down!
Your rudder broke a few milles before the end. Wasn't is stressful?
Until the breakage, I have had the most perfect race I could ever imagine, the first leg of the competition included. This incident was unexpected and it could have reset all the race. I was exhausted (eleventh days at sea and a very short previous night because of heavy rain) and it happened at night. I first secured the boat and put it back on tracks to keep my lead. Frankly,  my computer and Adrena heated up: weather forecast analysis, an eye on the contestants and the 345 nautical milles left, multiple routings with 70% 75% 80% 85% 90% efficiency of my polar. The screen was like a big calculator offering multiple possibilities. If you want to make the most of your software, I think you need solid computer skills.
It was hard but I didn't want to let go. I surfed every wave, steered and switched sails a lot. I sailed 40 hours under hard rain at the speed of 44kts with a medium wind of 25kts, i guess, and a 4 meters swell. Looking back now, I realize it was a little bit irresponsible. But I had complete trust in my boat. I was obsessed with one thing: to finish my race with no regret, to give my best and – I must admit- break the record!
In the end, I even had visual and auditory hallucinations. Charming ladies were talking to me in a smooth voice…
In short, the broken rudder was a bit frustrating but what a pleasure to reach the finish line and be able to welcome friends!
Some people talked about the fleet lack of training. What is your opinion about this. How did you prepare for the race?
Yes definitely. In my opinion, we are all amateurs with busy jobs, but some doesn't realize how demanding a transatlantic can be. Many navigators were lacking technical skills, electronic and computer knowledge. Training sessions on Adrena, NKE, Sail.Cloud and SailGrib were held in La Rochelle (France) before the departure. I also tried to share my knowledge of Adrena with many as possible. Clearly it was not enough. Many lacked physical preparation and knowledge in mastering their boat too. But, I repeat, we are all amateurs!
As far as I'm concerned, I had already sailed 11 seasons with my boat and we were in perfect osmosis together. I think it's important. I tried to prepare as fully as possible and sailed many times under spinnaker with 30-38 kts and with the pilot. I was almost ready for all configurations, even if I faced new problems on the water. I also went running, swimming and biking a lot. Being in a good physical conditions is important I guess. Unfortunately, my weakness is my sleeping problems…
Any upcoming race project?
Time will tell! I'm going to sail all season on a gorgeous brand new SunFast 3600. My partner and I got a place on the podium in double handed class for the ArMen Race (La trinité-sur-mer, Britanny). And my «lil pink boat» is still waiting for his 2nd rudder. Knowing her well, I think she'll need to exercise instead of docking in La Rochelle!