ADRENA TOP-RANKED CONFIGURATION DEDICATED TO RACING
Besides the standard features for navigation and mapping, ADRENA STANDARD is an essential tool for tactical decision-making.
Thanks to its unique ergonomy, ADRENA STANDARD displays accurate data for each course phase with no user intervention on computer.
When preparing the race, the navigator locates and annotates specific areas - Roadbooks - that can be enriched with images by overlaying them on the map.
During prestart, it displays the line, gives its advantage, time to reach it or to change side...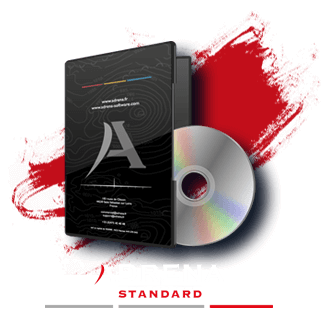 The Adrena routing automatically avoids the coasts, manages the arks to let and the gates to go through. The routing is calculated for an optimal route to follow; taking into account the weather GRIB, the currents (and their effect on the wind) and the boat's speed polar.
Thanks to the scanning of variables (wind, polar, GRIB shift or departure), it is possible to launch several successive routings and to display them on the chart in order to compare them.
They enable to visualize the sensitivity of the ETA according to a route shift. If they are parallel, it is possible to change one's heading without any effect on the route duration.
They compare isochrones and inverse isochrones and color a corridor that enables to get to destination with a minimum of delay compared to the optimal route.
MAIN NAVIGATION FUNCTIONS:
Tableau comparatif des principales fonctions Adrena
| DESCRIPTION | ADRENA FIRST | ADRENA STANDARD | ADRENA PRO |
| --- | --- | --- | --- |
| Touch screen mode usable on tablets | YES | YES | YES |
| Calibration of instruments (log, compass and windvane) | YES | YES | YES |
| Waypoints & routes management | YES | YES | YES |
| Global tide module | YES | YES | YES |
| Charts compatibility: electronic vector charts (CMap MAX) and raster charts (SnMap, BSB) | YES (option) | YES (option) | YES (option) |
| GRIB weather files viewer | YES | YES | YES |
| Meteograms | YES | YES | YES |
| NOAA, Great Circle, Predictwind, Navimail, Saildoc and Tidetech direct interfaces | YES | YES | YES |
| Download GRIB by internet and email up to 16 days | YES | YES | YES |
| Logbook (position, wind, speed and observations) | YES | YES | YES |
| Tide charts compatibility: SHOM, Proudman (+ high resolution), Winning Tides (Solent) | YES (option) | YES (option) | YES (option) |
| AIS anti-collision system b> | YES | YES | YES |
| Overlay of geo-referenced images | YES | YES | YES |
| Data export in Google Earth | YES | YES | YES |
| Backup / Restore software configuration | YES | YES | YES |
| Alarms setup: MOB, AIS, Sart AIS, coast detection and anchor alarm | YES | YES | YES |
| Custom alarms | NO | YES | YES |
| Roadbook with possibility to add visual annotations on the chart | NO | YES | YES |
| Datagrams: data evolution along the route (currents, sailect,…) | NO | YES | YES |
| AIS Tracking | NO | YES | YES |
| Loading Historical GRIBS and Ensemble Forecasts | NO | NO | YES |
| GRIB NOAA automatic loading | NO | NO | YES |
| DESCRIPTION | ADRENA FIRST | ADRENA STANDARD | ADRENA PRO |
| --- | --- | --- | --- |
| Competitors monitoring | YES | YES | YES |
| IRC / HN compensated time calculation | YES | YES | YES |
| Management of the start, windward/leeward and coastal route | YES | YES | YES |
| Laylines calculation and display | YES | YES | YES |
| Sending calculated data to Iphone or Ipad | NO | YES | YES |
| Inertia and manoeuvres taken into account on the sarting area | NO | NO | YES |
| Data averaging | NO | NO | YES |
| Management of a leeward gate | NO | NO | YES |
| Use of specific polars: start, navigation, performance | NO | NO | YES |
| Polar modification in real time | NO | NO | YES |
| 10 Hz instruments interface | NO | NO | YES |
| DESCRIPTION | ADRENA FIRST | ADRENA STANDARD | ADRENA PRO |
| --- | --- | --- | --- |
| Calculation of optimum route while automatically avoiding coastlines | YES | YES | YES |
| Routing in 2 clicks | YES | YES | YES |
| Dual Routing: sailing and motoring | YES | YES | YES |
| Integration of the current in routing calculations | YES | YES | YES |
| Routing of competitors | YES | YES | YES |
| Possibility to set up wind speed and angle limits in routing | YES | YES | YES |
| Display of wind conditions encountered along the route | YES | YES | YES |
| Risk/delay assessment: inverse isochrones and isoroutes | YES | YES | YES |
| Display of wind, current, tide and waves conditions encountered along the route | NO | YES | YES |
| Routing calculation on a coastal route | NO | YES | YES |
| Simulation of several routings | NO | YES | YES |
| Use of several GRIB files to calculate routing | NO | YES | YES |
| Routing hypothesis: scanning of variables | NO | YES | YES |
| Risk/delay assessment: inverse isochrones and isoroutes | NO | YES | YES |
| Statistics on routing: wind, sails | NO | YES | YES |
| Video creation on routings | NO | NO | YES |
| Micro-routing on laylines: "best side of the navigation square" | NO | NO | YES |
| Multiple routings on historical GRIBS, ensemble forecasting | NO | NO | YES |
| Use of multicore processors | NO | NO | YES |
| Loss due to sail change taken into account in routing calculation | NO | NO | YES |
| DESCRIPTION | ADRENA FIRST | ADRENA STANDARD | ADRENA PRO |
| --- | --- | --- | --- |
| Real polars caluclation from navigation data | YES | YES | YES |
| VPP polar diagrams creation | YES | YES | YES |
| Creation and modification of Sailect (optimum ranges of True Wind Speed and Angle for individual sails) | YES | YES | YES |
| Performance analysis (VMG, target boat speed...) | YES | YES | YES |
| Possibility to load tracks and correct them | YES | YES | YES |
| Graph of data history: histograph | NO | YES | YES |
| Replay of recorded tracks | NO | YES | YES |
| Multiple replay (several boats at the same time) | NO | NO | YES |
| Tracks analysis: statistics, speed tests... | NO | NO | YES |
| Polars calculation by configuration (sails, keel, ballast) | NO | NO | YES |
| Polars comparison | YES | YES | YES |
| Graphic and digital modification of polars | NO | NO | YES |
| Best configurations table | NO | NO | YES |
| TrimBook: settings record | NO | NO | YES |
| Integration of external data in the track | NO | NO | YES |
| Data exchange with external software (Sailect, segment) | NO | NO | YES |
| Loss analysis when tacking, gybing and during a manoeuvre | NO | NO | YES |
| Graphic display of weather history along the track | NO | NO | YES |