By Jean-Luc Nelias.
Before a race departure, it can be interesting to know which clothes will be the most useful:
shorts, oilskin jackets, or both of them?
Thanks to historical gribs, a study of the route not only brings an answer to this dress code question but also to many other questions that help you making choices in terms of:
Sails
Architecture
Class rules
Routes and dates for an organization
First of all, it is necessary to download historical gribs.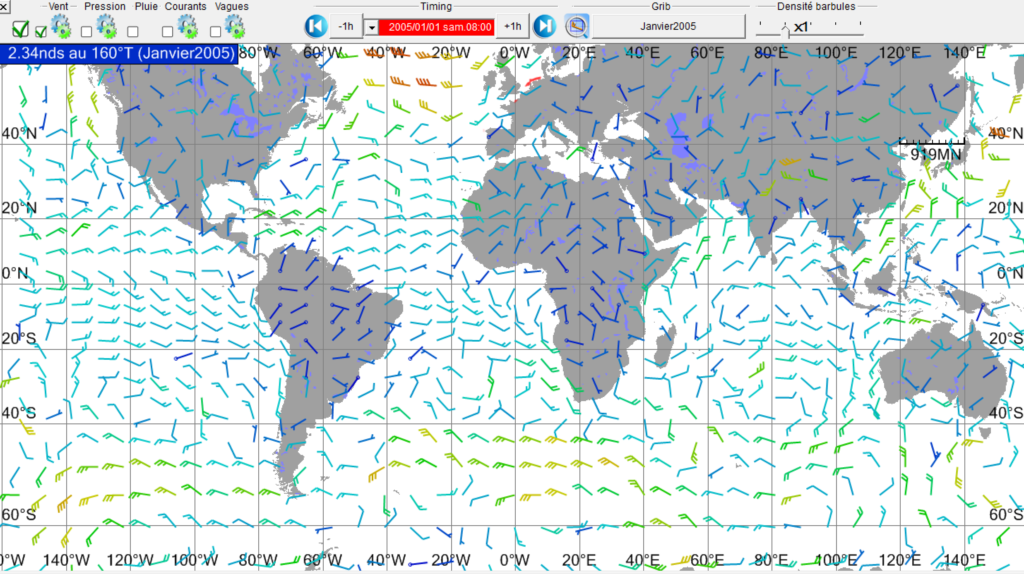 Adrena includes a function to let you download historical grib files provided by NOAA.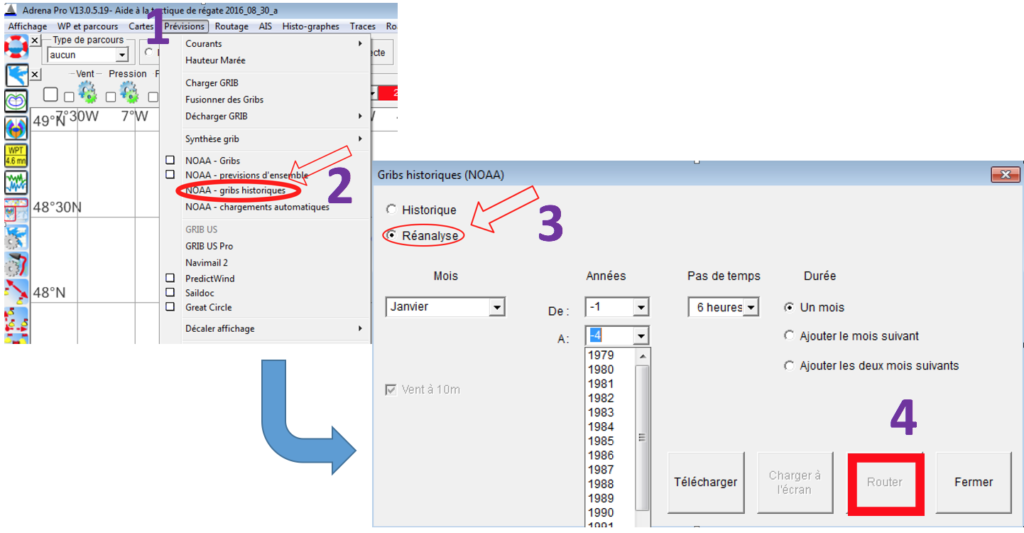 In this module, it is possible to select months and years before downloading them on your PC. Coverage being worldwide, the size of these files is very important. Thus I advise you to select no more than 2 variables at the same time and to use a powerful PC.
Be careful, there are 2 different options (3)
Historic: archive grib files delivered as they were provided on the issue date.
Reanalysis: grib files calculated from archive data but integrating the most recent forecast models. Thanks to this type of files, it is possible to download older gribs (from 1979) only with 10 meters wind. I use these ones.
Once they are downloaded in a file created by Adrena in the Grib directory, you can directly launch a routing calculation by clicking on the "Route" button (4) and specify the routing settings: date of departure, WP of departure and destination, scan…
You can also open the routing window from Adrena menu > Routing and specify the settings.
It is important to remember to open the 'Scans' toolbar, to select 'Historical Gribs' and to indicate the directory in which the historical gribs can be found.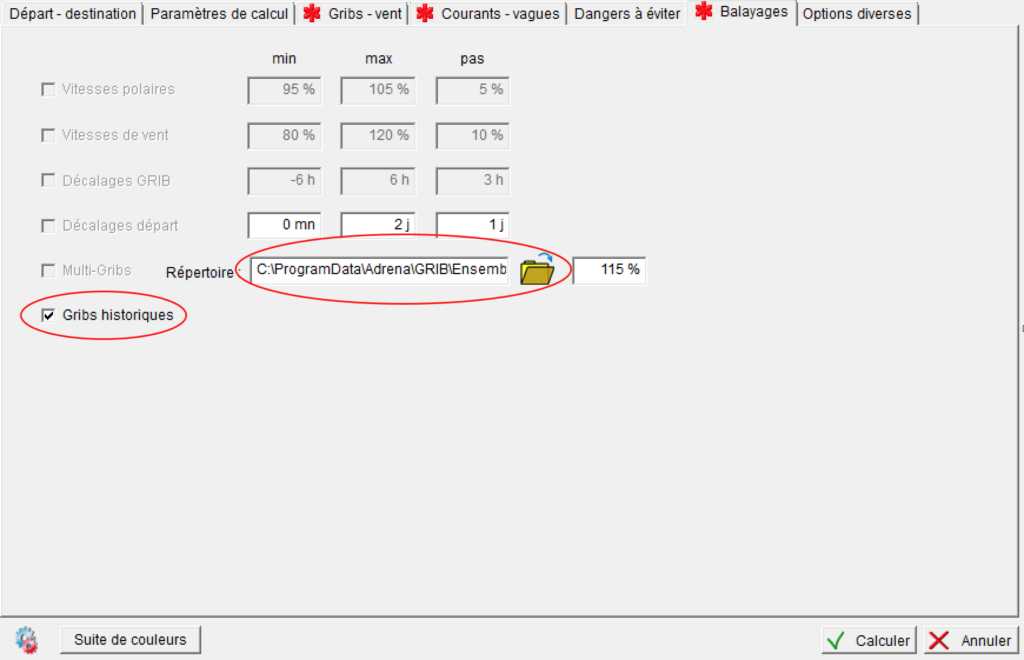 Then, all you have to do is to watch Adrena and your PC calculating routings through the months, seasons and years in order to get something similar to this: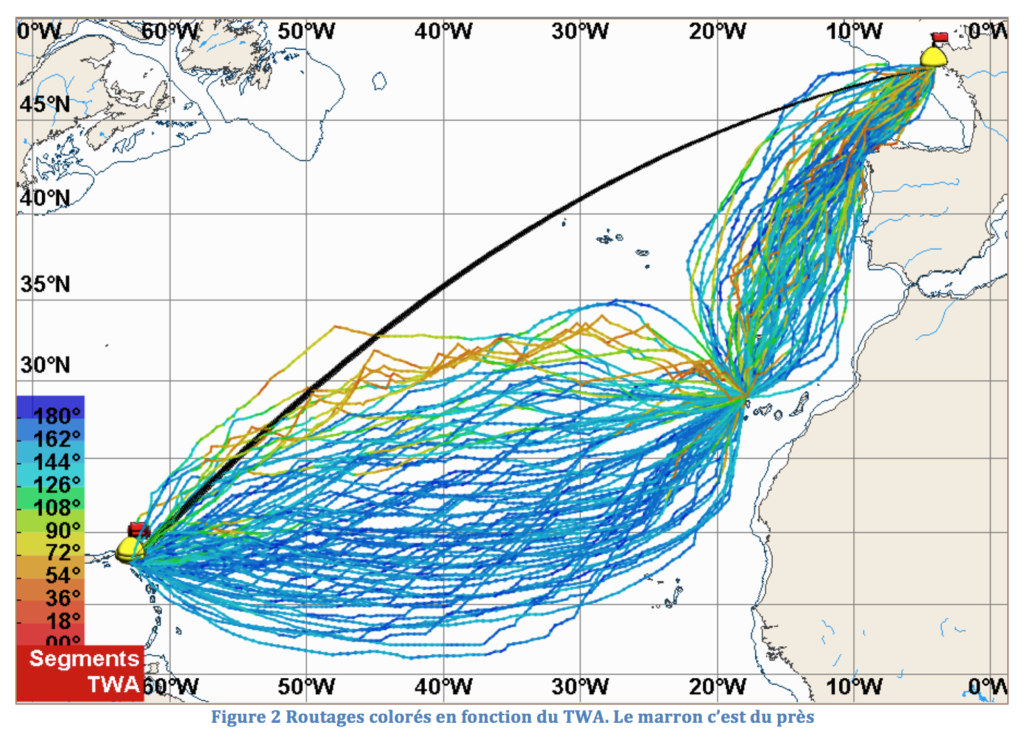 This is an example of a study made for the AG2R Transat.
Routings settings:
Study from 2000 to 2012
Runs: Day 1, D-4, D-2, D+2, D+4, D+6 (D Day = 6 April)
78 runs
Grib step: 6 hours / Grid: 0.75°
Routing: 3 hours step and 110% wind
No waves nor current
Polar diagram: Figaro 2013 routing
It is then necessary to analyze data thanks to the tables available on Adrena. It is possible to export them into an Excel format.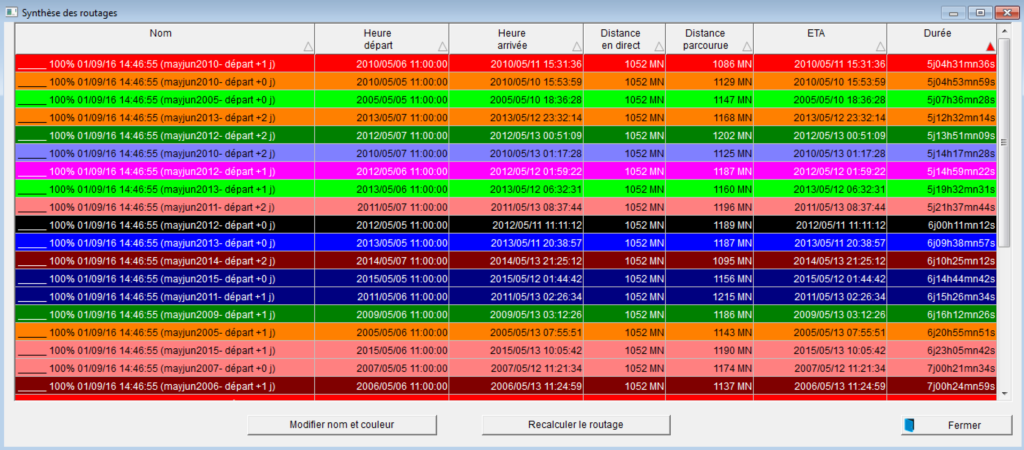 Routings Summary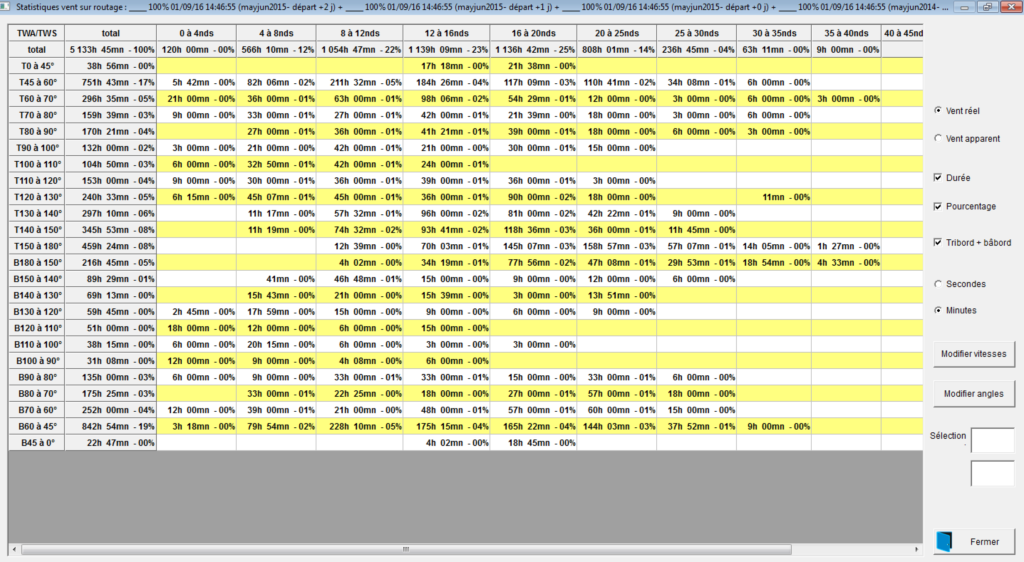 Wind routing statistics
Finally, this kind of information can be obtained:
Average race duration: 22d04h55mn23s
Average covered distance: 4216 NM
Average speed: 8.2 kn
Starboard tack duration: 61%
Lateral displacement between the most northern route and the most southern one: 1300 miles
Maximum lateral displacement between great circle and northern route: 580 miles
Maximum lateral displacement between great circle and southern route: 840 miles
24% of the routes in less than 20 days
65% of the routes in less than 22 days
Between Canary Islands and Saint Barth (French West Indies):
30 routings out of 78 to the north of the great circle
25 routings out of 78 are upwind
Wind allocation in TWS and TWA on the whole routings:
It requires a little bit of practice to obtain all of this data but in the end it is a lot of fun!